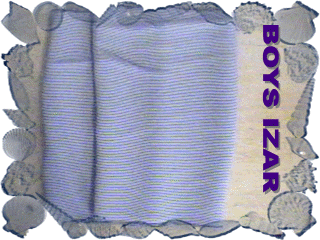 BOYS IZAR (NEW ADDITION TO SITE)
WOW NEW STYLE IZAR ONLY HERE AT TVB !!!
They look like regular izars when worn but these special izars are uniquely sewn to stay on without having to unwrap and rewrap it just pull it on and go !!!!!
If you are interested please email me for details at theveiledbeauty@yahoo.com with your length and what style izar you want ( regular style wrap around or NEW IMPROVED STYLE looks wrapped but is just pull on )
The Unbeatable prices start from $ 5 and up depending on size.

We make them from infants size to mens size !!!
These are unbeatable prices, you won't find anywhere else,for a wonderful new item that is only available ot TVB since it is our new creation !!!